"Cheesecake is not, traditionally, a dessert eaten in Palestine, but all the ingredients are: the labneh and filo, for example, the nuts and floral orange blossom.
"The base is made up of the sheets of filo blitzed up to make crumbs. Mixing this with the nuts calls baklava to mind. The result, we think, is distinct and special," explain cookbook authors, Tara Wigley and Sami Tamimi.
"If you are making your own labneh (which couldn't be easier: it just requires getting organised a day ahead), then it needs to be made one to five days before using. To get the 500g of labneh required, you'll need to start with 850g of Greek-style yoghurt, mixed with two-thirds of a teaspoon of salt.
"The base and cheesecake are best baked the day before serving, so that it can chill in the fridge overnight. The apricots are best roasted and put on top of the cake on the day of serving. Once assembled, the cake is best eaten the same day."
Read: Honey, Almond and Cardamom Drizzle Cake
Serves: 10 – 12
Ingredients:
For the base:
5 sheets of good-quality filo pastry (about 110g)
90g unsalted butter, melted, plus extra for greasing
40g walnut halves
60g pistachio kernels
1½ tablespoons plain flour
50g caster sugar
10 cardamom pods, shells discarded and seeds finely crushed in a pestle and mortar (or ¾tsp ground cardamom)
1 teaspoon ground cinnamon
¼ teaspoon flaked sea salt
For the filling:
500g labneh (either shop-bought or 850g of Greek-style yoghurt, see headnote if making your own)
500g ricotta
210g caster sugar
⅔ teaspoon flaked sea salt
5 eggs (2 whole, and 3 with yolks and whites separated: you will only be using the yolks of these)
2 teaspoon finely grated orange zest
1 tablespoon orange blossom water
1¼ teaspoons vanilla extract
1½ tablespoons cornflour
For the topping:
75g runny honey
2 teaspoons orange blossom water
40ml orange juice
6 cardamom pods, shells on, seeds roughly bashed together in a pestle and mortar
350g ripe apricots, stones removed, cut into 6 wedges
a small handful of picked mint leaves, to garnish (optional)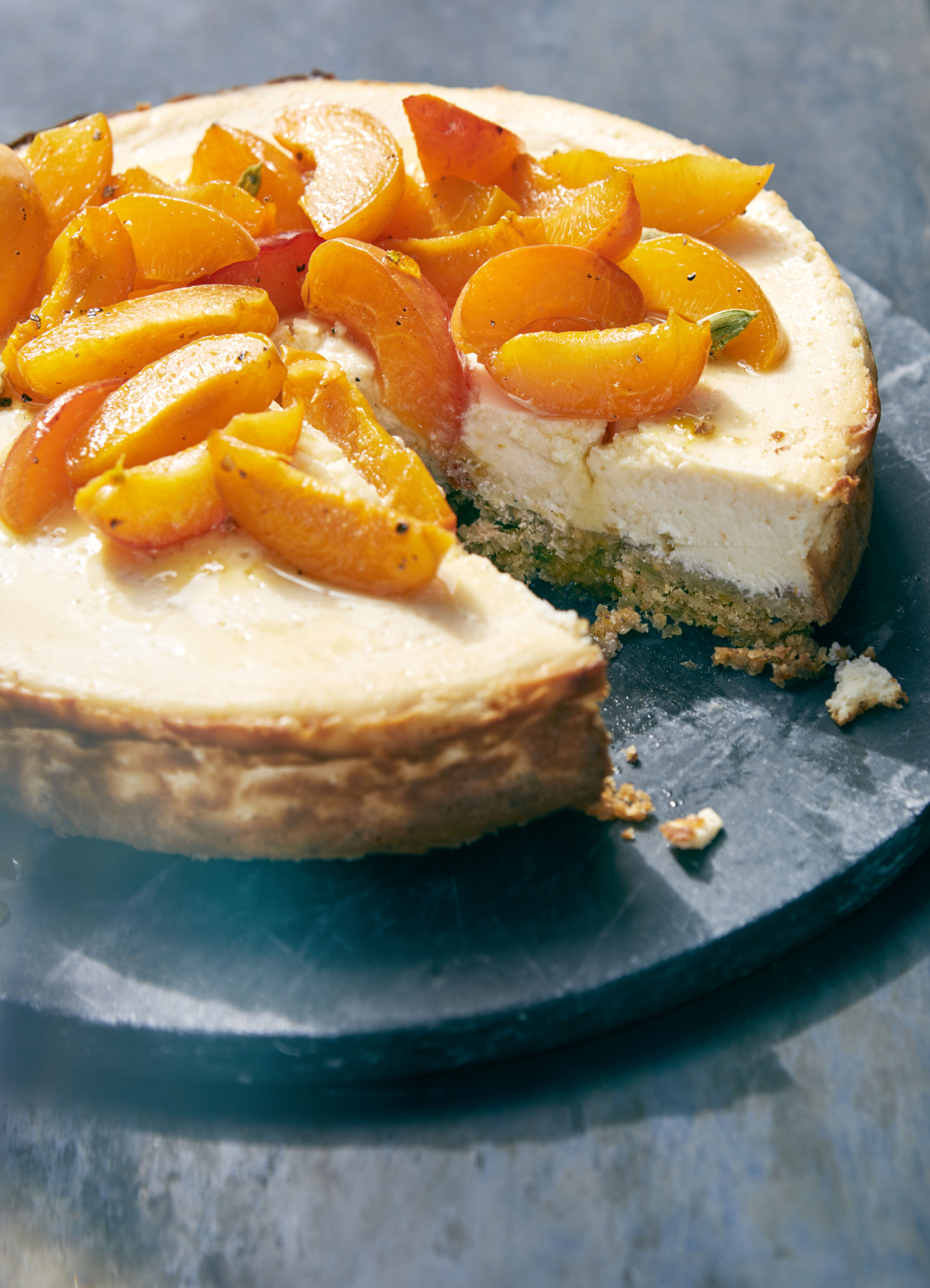 Method
Preheat the oven to 160°C fan. Grease and line the base and sides of a 23cm springform baking tin and set aside.
To make the base, lay out one sheet of filo on a clean work surface. Measure out a third of the butter – this will be used for brushing the sheets – and set the remaining 60g aside for later. Brush the sheet until well coated, then top with the second filo sheet. Continue in this fashion until all the filo and butter has been used up, finishing the last layer with a coating of butter. Transfer the filo stack to a parchment-lined baking tray and bake for about 20 minutes, or until golden and crispy. Remove from the oven and set aside to cool for 15 minutes (or longer) before breaking apart into large shards. In two batches, place the shards in a food processor and blitz for about 10 seconds, to form fine crumbs. Place in a medium bowl, then add the nuts to the processor. Blitz for about 20 seconds, until fine but not powdery.
Read: Baked Sour Cherry Cheesecake
Add the nuts to the filo along with the flour, sugar, spices, flaked salt and remaining two-thirds of butter and mix to combine. Tip the mixture into the base of the lined tin and press it down firmly and evenly so that the whole base is covered. Bake for 12 minutes, or until lightly golden. Remove from the oven and set aside to cool.
To make the filling, clean out the food processor and add the labneh, ricotta, sugar and salt. Pulse for just a few seconds, to combine. Scrape down the sides of the bowl, then add the eggs, egg yolks (the spare whites can be saved for something else), orange zest, orange blossom water, vanilla extract and cornflour. Pulse for about 15 seconds, to combine, then pour the mixture into the cake tin. Bake for 60–70 minutes, or until the cake is beginning to take on some colour around the edges but still has a slight wobble in the middle.
Remove from the oven and leave to cool at room temperature for an hour before refrigerating for at least four hours or (preferably) overnight.
On the day of serving, preheat the oven to 200°C fan and prepare the topping. Put the honey, orange blossom water, orange juice and bashed cardamom pods into a small saucepan and place on a medium-high heat. Cook for four to six minutes, stirring often, until the mixture has reduced by half and is beginning to form a thin syrup. Spread the apricots out on a parchment-lined baking tray, on their side, and drizzle over half the syrup. Bake for about eight minutes, turning the apricots over halfway through baking, until completely softened but still retaining their shape. Remove from the oven and set aside for about 30 minutes, until completely cool.
Read: Easy Carrot Cake
Just before serving (or up to one hour, if you want to prepare ahead), release the cake from its tin and transfer to a round serving platter. Top with the apricots – there should not be any overlap – and drizzle with the remaining syrup. The bashed cardamom pods can be used for garnish as well – they look nice – but these are not to be eaten. Scatter over the mint leaves, if using, and serve.
Falastin: A Cookbook by Sami Tamimi and Tara Wigley, photography by Jenny Zarins, available now.
– With PA
If you enjoy our content, don't keep it to yourself. Share our free eNews with your friends and encourage them to sign up.