"This dish is reminiscent of a Chinese-style beef chow mein, except quicker, healthier and tastier," says cookbook author Pippa Middlehurst.
"The first steps of tenderising the beef to help achieve an amazing texture and flavour, while cooking the beef separately ensures it remains tender. Small tricks like this will help you achieve restaurant quality at home," she adds. "I like to serve this with fresh hand-cut noodles to give a bold variety of textures, but a thick-cut dried noodle would work just as well."
Read: Quick Singapore Noodles for Two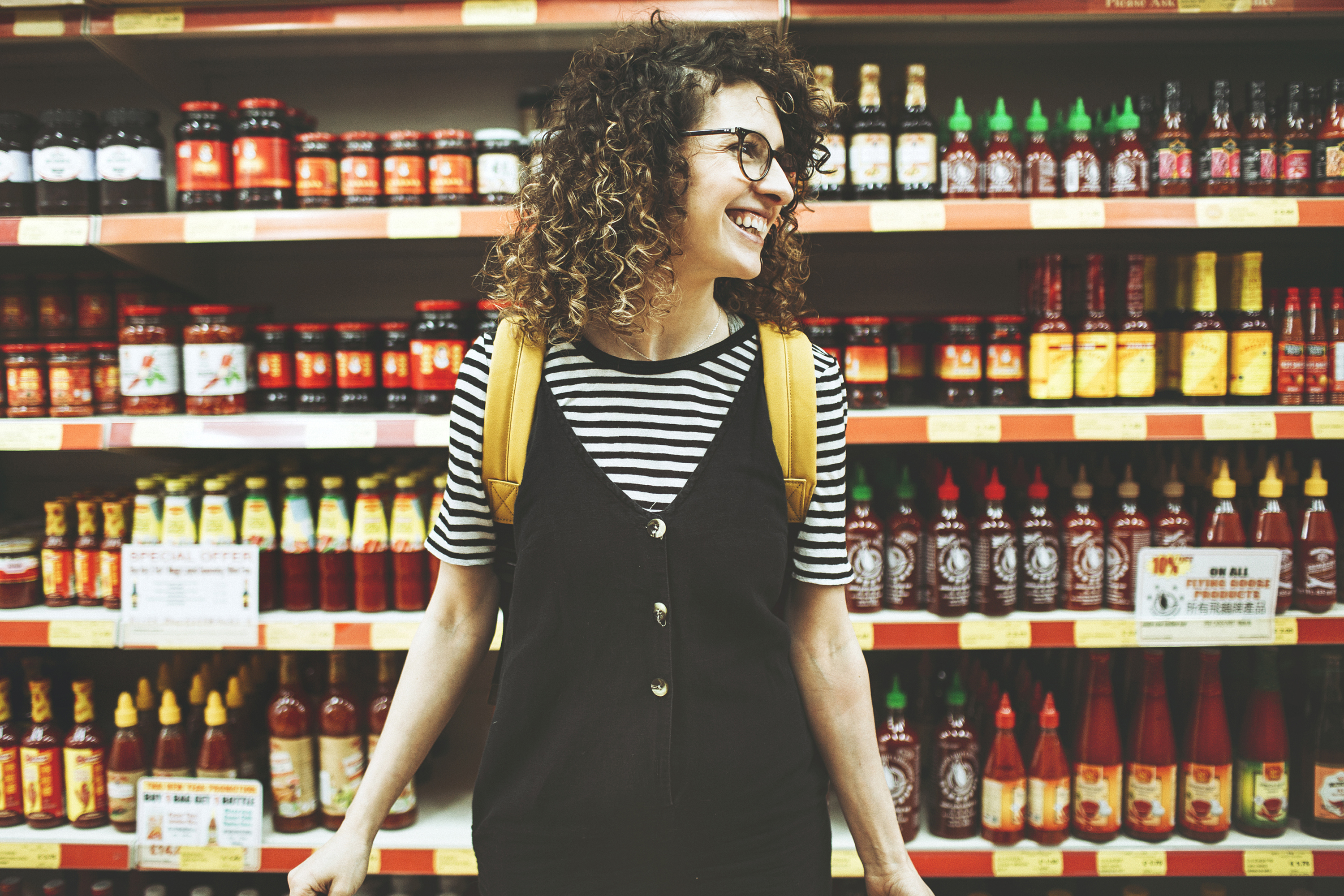 Serves: 4
Ingredients

350–400g steak (skirt, flank or sirloin), sliced across the grain into strips about 3mm wide
1 tablespoon cornflour
1 tablespoon Shaoxing rice wine
2 teaspoons light soy sauce
15g dried mushrooms, soaked in 100ml boiling water
3 spring onions
about 400g thick dried wheat noodles
2 tablespoons neutral oil
3 garlic cloves, finely sliced
400g pak choi, leaves separated
For the seasoning sauce:
2 tablespoons light soy sauce
2 teaspoons dark soy sauce
4 tablespoons oyster sauce
2 teaspoons sesame oil
2 teaspoons light brown sugar
a pinch of freshly ground white pepper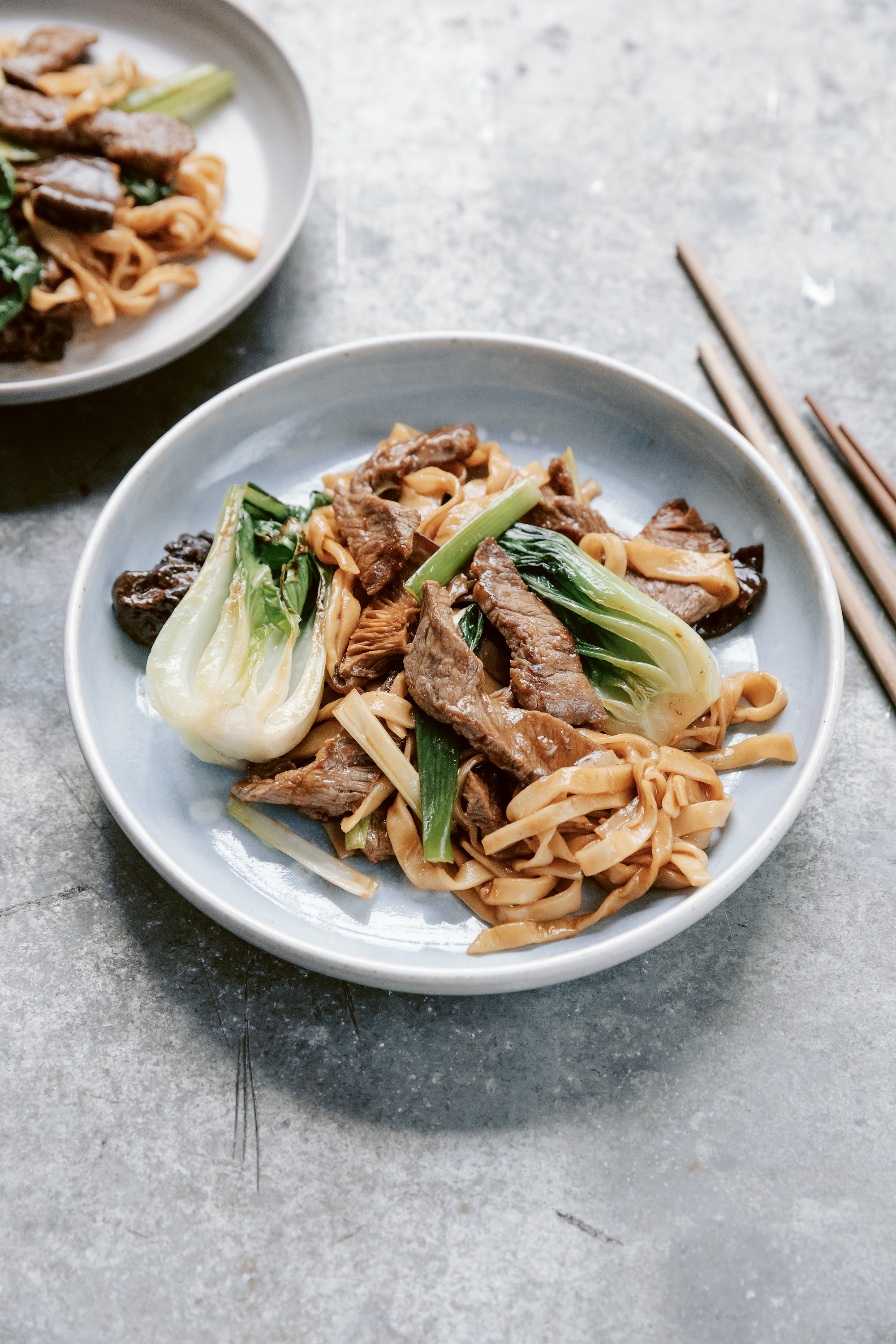 Method
Tenderise your beef. Add to a bowl with the cornflour, rice wine and soy sauce, combine well and set aside to marinate while you prepare other elements of the dish.
Read: Jalapeno Beef Dan Dan Dumplings
Combine all the ingredients for the seasoning sauce in a shallow bowl or mug. Drain the rehydrated mushrooms, reserving the soaking liquid. Chop the spring onions into 4cm sections, then slice these lengthways to make thin matchsticks.
Cook the noodles until al dente, or according to the packet, and then drain. Do not cook them until soft, as they will continue to cook in the wok. Rinse these with plenty of cold water until they are completely cool (this will prevent them from sticking), then set aside.
Heat your wok over a high heat and add one tablespoon of the neutral oil. Add the marinated beef and stir continuously for two to three minutes or until the meat has browned and is crispy looking. Remove the beef from the wok and set aside, then clean the wok.
Place the other tablespoon of oil in the wok and set over high heat. Add the garlic and quickly fry until fragrant (20 seconds), followed by the pak choi and rehydrated mushrooms, cooking for another minute or two. Keep everything moving in the pan to prevent it from burning. Add your cooked noodles, followed by the seasoning sauce and the reserved mushroom rehydration liquid. Return the cooked steak to the pan. Toss everything well and cook for one to two minutes until the sauce is bubbling and slightly reduced. Add the spring onions and toss through. Remove from the heat and serve.
Read: Quick and Easy Satay Noodles
Dumplings And Noodles by Pippa Middlehurst, photography by India Hobson, is published by Quadrille.
– With PA
If you enjoy our content, don't keep it to yourself. Share our free eNews with your friends and encourage them to sign up.