Creating a senior-friendly garden
A senior-friendly garden is essentially one with lots of appeal, low in maintenance and a safe space for older age groups. These factors will really encourage seniors to enjoy the outdoors, providing mental and physical stimulation. When considering a practical and appealing garden design, there are multiple areas to cover off.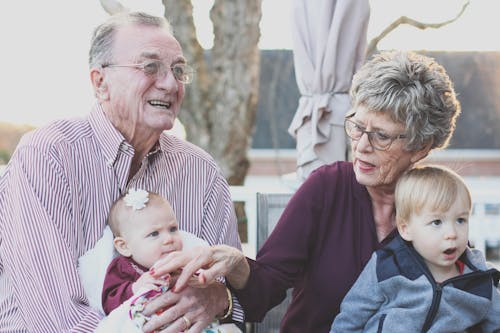 Providing shade and comfortable seating
Seniors benefit from shady spots in the garden. Indeed, they need these for health and wellbeing as this age group is more prone to dehydration and sunstroke and their skin is vulnerable to sunburn. In addition to shade, comfortable places to sit are essential for rest and relaxation. Seating should be robust and stable, ideally in quiet areas for enjoying a drink, peace to think or time to read a book.
Raised beds, light tools and suitable garden storage
Many seniors still enjoy active gardening but bending down can be difficult. Therefore, raised garden beds are a huge asset as seniors can garden at an accessible height. Also consider the strength factor of handling heavy tools for seniors and opt for lightweight gardening equipment. Tools need proper storage, which is easy to achieve when you install a customisable EasyShed that is easily accessible by all ages.
A simple and accessible garden layout
The actual garden layout should be accessible and user-friendly, with level surfaces and plenty of space to move around in. Think about any particular health and mobility needs a senior garden user might have. For example, wheelchair access or a visual or mental impairment.
Plants and shrubs to avoid
It can be helpful to zone the garden into different plant types, e.g native Australian species. However, all plants should be easy to care for. Therefore, avoid plants that spread rapidly such as bamboo or Azaleas. Although these look attractive, they can be very hard to maintain. Plants that are toxic should also be avoided, such as Belladonna, which can cause serious harm if accidentally ingested.
Plants and shrubs to include
Choose low-maintenance, no-fuss plant varieties. Magnolias are colourful, adaptable and easy to grow. They must have a good soil quality so the roots can absorb water easily during Australia's hot summers. Banksia is another colourful native plant that is easy to maintain. Providing flowers right through the year, Banksia just requires plenty of sunlight and a well-drained soil. Basically the key is to provide colourful plants to enhance the mood and encourage non-strenuous gardening activities.
Ideas for trees
In terms of trees, the citrus variety is a great choice for easy fruit picking, as well as an excellent source of fresh nutrients. These trees need very little care apart from watering, fertilising, mulching and pruning from time to time. Finally, Grevilleas are lovely plants and are very pest-resistant. Simple to look after, native birds will often perch in the branches, providing a delightful and interesting talking point in a senior's garden.
Home-grown vegetables
Seniors may enjoy tending their own vegetable gardens if their mobility and health allow, so having a vegetable plot is an excellent step to promote good health and physical activity. Home grown produce is a source of stimulation and an excellent hobby for anyone, including seniors.
Spaces for wildlife
Since Australis benefits from diverse wildlife, encouraging different animals into a garden can be beneficial through wildlife-friendly spaces. For example, include an aviary with Australian birds or ponds for koi fish and frogs.
In conclusion, there are many benefits from gardening for seniors and you can create a senior-friendly garden from scratch or modify and existing design by taking into account the above tips and suggestions.
5 comments