Flavoured with a squeeze of lime and a touch of vinegar, shell suitably gnarly and its contents glistening under the early winter sun, the oyster I'm about to shuck on a near-empty Moroccan beach is about as straight-from-the-sea as it gets.
Barely out of sight a few hundred metres away, shells cling to sticks poking out of the surface of the lagoon, where they'll stay for two years before the plumpest molluscs are purified in a small farm building on the beach opposite.
While travellers will be well aware of the North African country's sticky lemony chicken tagines or ras el hanout spiced lamb, oysters not so much.
Yet Oualidia – nestled on the Atlantic coast between Casablanca and El Jadida, a 200km drive from the red-walled capital – is known as the 'oyster capital of Morocco', and one of only two regions farming them in the country.
"The taste is slightly different to French sea oysters," Nabil El Bahri, duty manager at La Sultana Oualidia, the area's only luxury hotel, tells me. "The salt is different and the tide goes in and out, so they spend six hours a day out of the water." The taste is different; flavourful but delicate.
Read: Finding the magic in Morocco
The beach – our lunch spot under a canopy – curves into the distance, meeting a natural break creating the protected and picturesque Oualidia Bay, fringed with generous golden sands and a raised sandbar in the centre, where gentle waves roll and sizeable Atlantic waves break against the rocky ridge.
I feel I'm now privy to a well-kept secret of Morocco's coast; it's quiet, unspoiled and feels very undiscovered by European tourists – unlike the hippy town of Essaouira and sprawling seaside resort of Agadir. Once a traditional fishing village, Oualidia is becoming increasingly upmarket, thanks to well-to-do people from Marrakech and Casablanca escaping to their blue-shuttered white-washed holiday homes at weekends. But you still won't find beachside bars with plastic chairs or rows of paid-for deck chairs on the sand. At least, not yet.
It's out of season in November, but even the winter temperatures are warm enough, particularly for a more active break; canoeing, surfing or fat-tyre biking along the shore.
Is it usually so quiet in Oualidia? "At this time of year, yes. In summer it's too busy," says Youness, a waiter, who works at the hotel. "This is the best time of year here, and March and April." The shoulder seasons combine the best of what this unique corner of Morocco has to offer: the guarantee of good weather without sweltering heat, no crowds and a vastly different culture.
Across the water, gold-painted crumbling ruins remain of Morocco's royal family's kasbar from the 1950s – when King Mohammed V declared this the first royal beach. Five-star La Sultana has royal connections too (the king's mother has stayed here three times) but its glamour isn't ostentatious. Tucked subtly into the curve of the lagoon, a pier lined with twinkling lights reaches out into the water – where a local catch of bream, squid and monkfish is barbecued and served up on white tablecloths after sunset.
Read: Seven of the world's most amazing streets
As the tide retreats mid-morning, fishermen scatter to hand pick spider crabs and razor clams, as well as the vibrant green wild samphire now peeping through the sea water pools, all staples on the hotel restaurant menu – as much as possible is sourced on their doorstep. Also onsite, organic herbs and vegetables grow in the kitchen garden (a picturesque spot for a Moroccan mint tea, brewed with copious amounts of sugar and traditionally poured from a height to create the very important foam top), and chickens lay eggs for breakfast.
It wouldn't be true luxury without an infinity pool, which falls away into the view of the lagoon. There's also a traditional hammam spa – an experience not for the shy – but rigorous exfoliation and silky argon oil combine to achieve great results.
Each of the grand-beyond-belief rooms has its own large private terrace complete with an outdoor daybed and hot tub to sink into as the sun sets, palm trees framing candy colours spread across the sky. With only 12 rooms, there's a genuine feeling you're being looked after; each guest is even handed a Moroccan smartphone with Mr El Bahri on speed dial for any assistance.
There's something about Mr El Bahri's love and enthusiasm for this place, and its locally sourced food, that's really pure. It runs in his blood; his grandmother farmed the lands just the other side of the property and agriculture is still most people's livelihood here. This side of Oualidia is best experienced as part of a guided bird safari by expert meandering up the 12km estuary.
"When I was a boy, it was all tomatoes growing here – you could smell them," he says. A problem with yellow fly in the 1990s wiped out much of the red crop and many families sold up and moved on. These days, the lagoonside lands are most likely to be filled with rows of carrots and turnips.
"Cormorant!" Mr El Bahri points. And soon the banks are awash with storks and egrets. The protected lagoon has a rich ecosystem, with 400 species of bird coming to feed in autumn and spring. Further along, flamingos balance in salt marshes mid-migration from Spain to sub-Saharan Africa.
Read: Here's why Algeria should be top of your destination wish list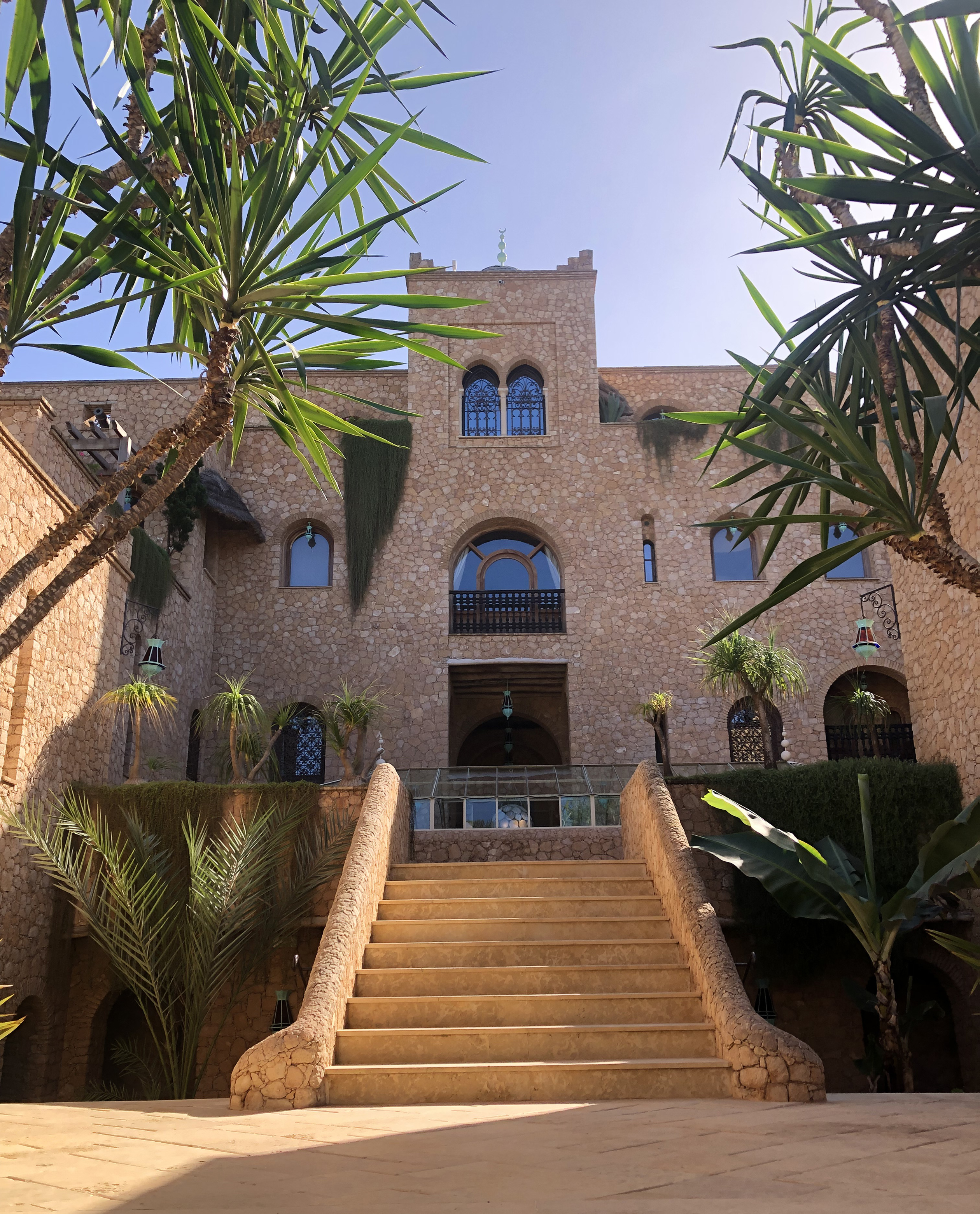 Morocco is perhaps more famous for its surf than storks though; Safi, an hour from here, is considered to have some of the best waves in Africa, but the gentle undulating waves inside Oualidia bay are safe enough for beginners.
We almost have the waves to ourselves, bar a couple of local surfers giving me a wide berth. Even being splashed repeatedly in the face with salty water can't dampen the life-affirming exhilaration of riding (even the smallest of) waves in this unassuming little pocket of the world.
– With PA
If you enjoy our content, don't keep it to yourself. Share our free eNews with your friends and encourage them to sign up.