Many famous onscreen outfits have gone under the hammer to raise money for charity.
Most recently, pyjamas worn by Jodie Comer as Villanelle in Killing Eve and the football shirt Paul Mescal sported as Connell in Normal People have gone up for auction, with proceeds going towards Bafta's charitable work.
The right costume can help a film or TV show reach legendary status. And often, fashion memorabilia can then fetch a high price at auction.
These are just some of the instantly recognisable onscreen outfits to have sold for an impressive amount of money.
1. Florence Pugh's floral outfit from Midsommar
We're excited to share our newest acquisition, the May Queen gown made of 10,000 silk flowers from the film MIDSOMMAR (2019), written and directed by @AriAster and starring @Florence_Pugh. 100% of #A24Auctions proceeds go to @FDNYFoundation @A24 pic.twitter.com/tNU6okYnad

— Academy Museum of Motion Pictures (@AcademyMuseum) May 19, 2020
The floral outfit Florence Pugh wore for the finale of horror film Midsommar went under the hammer earlier this year. Made up of 10,000 silk flowers, it's a symbol of the extremely grim ending to the 2019 cult movie, and was sold for £53,000 ($93,000) to the Academy Museum Of Motion Pictures.
Read: Iconic fashion items from the music world
2. Olivia Newton-John's jacket and trousers from Grease
Few outfits are as iconic as the black leather jacket and trousers Olivia Newton-John wears in the final scene of 1978 movie Grease, marking Sandy's transformation from a good girl to something a whole lot edgier. She wears it to sing the final number of You're The One That I Want, and the popularity of the look is still going strong judging by the number of Halloween costumes it inspires every year.
The outfit was sold in 2019, with the hefty proceeds going to the Olivia Newton-John Cancer Wellness and Research Centre. The trousers raised £125,000 ($220,000), while the jacket made even more – £188,000 ($328,000).
3. Marilyn Monroe's showgirl outfit from Gentlemen Prefer Blondes
Marilyn Monroe's character Lorelei Lee wears plenty of iconic outfits in the 1953 movie Gentlemen Prefer Blondes, including the fuchsia dress to sing Diamonds Are A Girl's Best Friend and the skintight orange gown with a matching scarf.
Another memorable outfit is the red showgirl dress she wears to perform with Jane Russell, who plays her best friend Dorothy Shaw. It's vibrantly coloured, long-sleeved, covered in sequins and has an accompanying headdress – and sold for £193,000 ($340,000) in 2019.
Read: Seven amazing black and white films that will take you back
4. Judy Garland's dress from The Wizard of Oz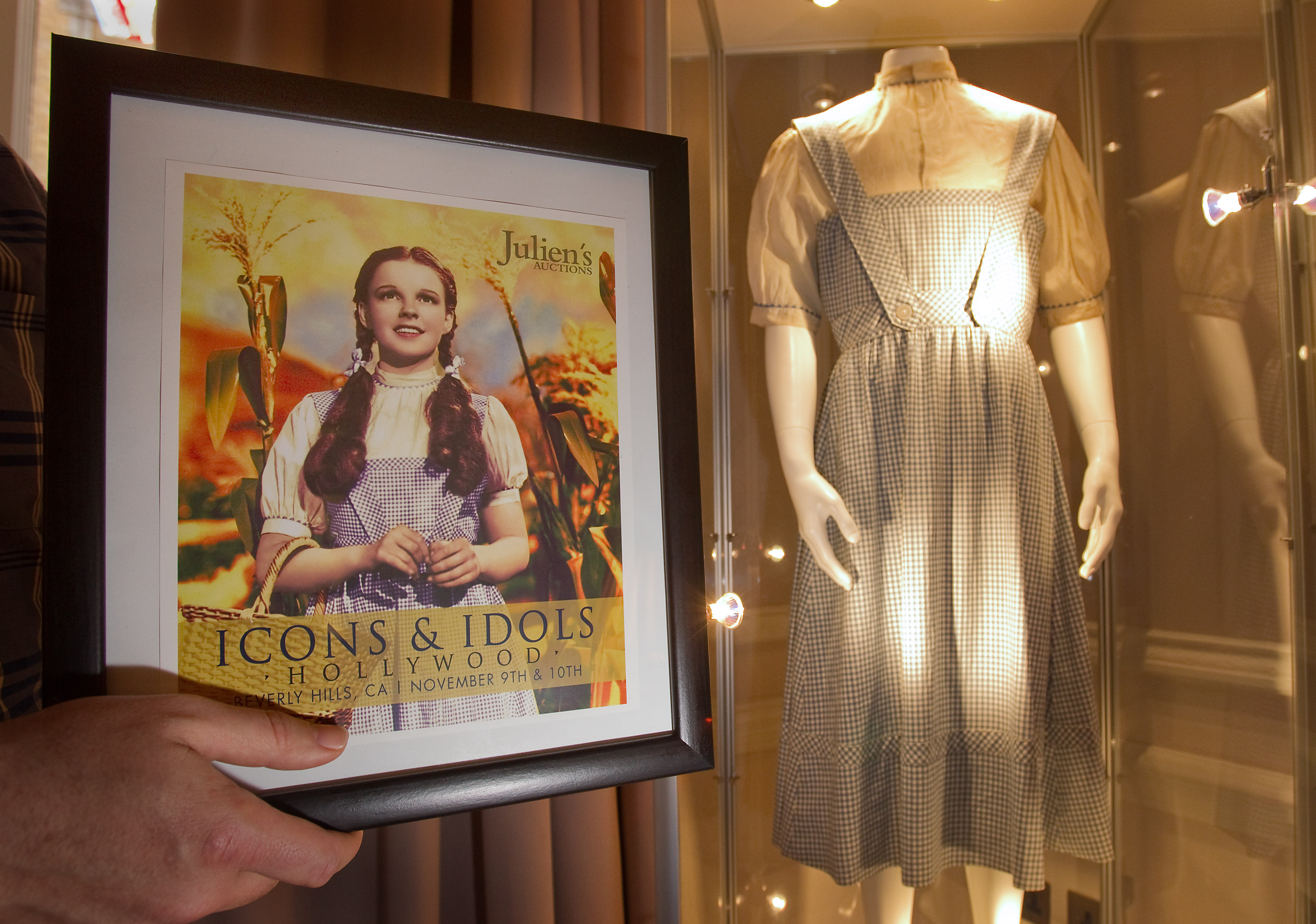 It might not be the most glamorous outfit on this list – a blue check pinafore with a white blouse underneath – but the dress Judy Garland wore as Dorothy in the 1939 film The Wizard of Oz is a bona fide piece of movie history.
The outfit went under the hammer in 2015, and was snapped up in less than three minutes for over £1 million ($1.7 million).
5. Audrey Hepburn's black dress from Breakfast At Tiffany's
Sometimes the simplest outfits can make the biggest impact onscreen, and Audrey Hepburn's satin black evening gown worn as Holly Golightly in the 1961 film Breakfast At Tiffany's attests to this.
Designed by Hubert de Givenchy, the dress has become the pinnacle of elegance with its high neck and slim fit. In the movie, Hepburn wore the dress with strings of pearls, black gloves that went past her elbows and a beehive hairstyle.
The dress sold for £467,200 ($817,000) in 2006.
Read: Why do we love musicals so much?
6. Outfits from The Sound of Music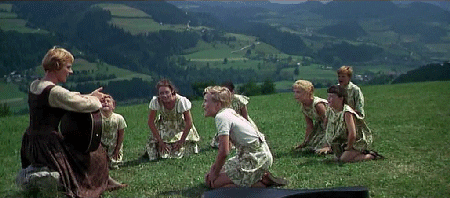 In one scene from The Sound of Music, the nun-turned-governess Maria (played by Julie Andrews) makes clothes out of curtains for the von Trapp children and they go hiking in the mountains, singing Do-Re-Mi.
The outfits from this scene were sold by auction house Profiles in History in 2013. The dress worn by Andrews was described as "consisting of a heavy brown homespun Austrian-style dress with wheat-colored homespun blouse".
According to the BBC, these outfits along with some other costumes from the film fetched £845,000 ($1.3 million) at auction.
– With PA
If you enjoy our content, don't keep it to yourself. Share our free eNews with your friends and encourage them to sign up.