Need a sob? Shed tears over this lot…
1. Brokeback Mountain (M, 134 mins)
Ang Lee's bold, daring and heartbreaking love story, based on a 30-page novella by Annie Proulx, achieves cinematic alchemy: gorgeous cinematography, haunting orchestral score, elegant screenplay and jaw-dropping performances from the four young leads. Jake Gyllenhaal's energetic, rumbustious turn as talkative dreamer Jack Twist contrasts with Heath Ledger's riveting portrayal of introvert Ennis Del Mar. He simmers with self-loathing, wrestling with inner demons at a time when the insinuation of homosexuality could get a man killed.
Michelle Williams and Anne Hathaway are stunning, playing the wives who end up casualties of Jack and Ennis's war with their true natures. The look of disbelief and anguish on Williams' face, struggling to catch her breath after she catches a glimpse of the two men embracing, draws parallels with Ennis's agony, doubled up in pain by the side of the road when he parts from Jack for the first time. Ennis's tearful final line – "Jack, I swear…" – is almost too much to bear.
Read: Why a good cry can make us feel better
2. Dead Poets Society (PG, 124 mins)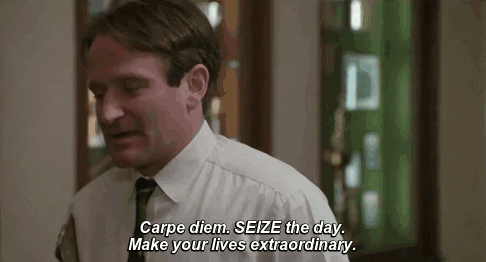 "Oh captain, my captain…" That four-word salute, a reference to Walt Whitman's 1865 poem about the death of President Abraham Lincoln, opens the emotional floodgates of Peter Weir's majestic drama set at an elite boarding school in Vermont, where an unorthodox English teacher encourages male pupils to 'seize the day'.
Robin Williams would have won the Oscar any other year for his deeply moving portrayal of the inspirational educator. In 1990, he had the misfortune to be pitted against Daniel Day-Lewis in full method actor flow as Christy Brown in My Left Foot.
Supported by an impeccable ensemble cast of Hollywood's bright young things including Ethan Hawke, Robert Sean Leonard and Josh Charles, Williams dials down his usual clowning antics and deftly tugs heartstrings by saluting the power of a teacher to mould impressionable minds and kindle sparks of potential. Heeding the words of its character, Weir's picture makes our lives extraordinary.
3. E.T.: The Extra-Terrestrial (PG, 114 mins)
Almost 40 years after its initial release, Steven Spielberg's epic has lost none of its power to entertain and enchant. E.T.: The Extra-Terrestrial is a beautifully crafted coming of age story about the remarkable bond between a boy called Elliot (Henry Thomas) and a stranded alien.
Spielberg's masterpiece reminds us of the power of cinema to transport us away from the monotony of everyday life, to a world of magic and possibility, where dreams come true for those who dare to reach for the stars.
In many ways, it's a film born of simpler, less cynical times. Nowadays, when aliens land on Earth, they are snarling beasties intent on domination not some sweet creature capable of loving a human child. For that reason alone we should keep this timeless classic close to our hearts. The lingering image of the alien pointing tenderly to Elliot's heart and whispering "I'll be right here" as John William's score swells brings childhood memories and the tears flooding back.
4. The Fault In Our Stars (M, 126 mins)
The Fault In Our Stars offers a stern test to the waterproof mascara of every teenager who fell in love with John Green's bestselling novel. Josh Boone's polished adaptation deftly plucks heartstrings to the point that a trickle of saltwater tears threatens to become an unstoppable torrent. One tissue simply doesn't suffice as scriptwriters Scott Neustadter and Michael H Weber navigate the tricky topic of terminal illness with wry humour and sensitivity.
The film is blessed with a tour-de-force central performance from Shailene Woodley as a young cancer patient, who experiences the exquisite agony of first love just when it seems she has given up on life. The 22-year-old Californian actress doesn't hit a single false emotional note as her protagonist wrestles with guilt and mortality, catalysing smouldering screen chemistry with co-star Ansel Elgort.
Director Boone makes a couple of missteps, including a crudely engineered scene at Anne Frank's House in Amsterdam. However, once our tear ducts start leaking, we forgive him and the script an occasional faux pas.
Read: Books guaranteed to make you cry
5. The Green Mile (MA15+, 188 mins) http://www.youtube.com/embed/Ki4haFrqSrw?feature=oembed
Based on a novella by horrormeister Stephen King, The Green Mile charts an unlikely friendship between the white head warden (Tom Hanks) and a black prisoner (Michael Clarke Duncan), whose paths intersect in 1935 on death row at Coal Mountain Louisiana State Penitentiary.
Writer-director Frank Darabont allows the storyline to develop at its own natural pace (hence the three-hour running time). The effect is a heartbreaking drama, which builds in pace and tension, and draws to an earth-shattering close that really will have grown men weeping inconsolably.
The use of a flashback structure generates a neat final reel twist that only fans of the book will see coming, drawing together the various plot threads with a quiet assurance. Hanks is excellent, playing another all-American everyman who finds himself in an extraordinary situation. However, this is Clarke Duncan's film. He possesses a magical quality which transfixes the viewer, with an emotional heart as impressive as his physical presence.
6. The Iron Giant (PG, 89 mins)
With its sophisticated screenplay, alluding to the fear of nuclear attack which gripped 1950s America, and beautifully sketched characters, The Iron Giant is an animated marvel, which pays due reverence to Ted Hughes's fairytale The Iron Man.
Transplanting the action across the Atlantic to a sleepy American town just after the launch of Sputnik, director Brad Bird's film centres on sci-fi obsessed tyke Hogarth Hughes (voiced by Eli Marienthal) who stumbles upon a gargantuan metal creature from outer space near his home. The relationship between boy and automaton is developed naturally and fully, creating a plausible and moving bond that is intentionally more desirable than any of the human relationships in the film. Vocal performances are energetic and perfectly suited to their characters.
Marienthal's interpretation of Hogarth moves through the full range of emotions especially during the tense finale. Haunting, moving and ultimately life-affirming, The Iron Giant reminds us that strange and wonderful things sometimes happen when all hope seems lost.
7. Marley And Me (PG, 115 mins)

Animal lovers will be wagging their tails in delight at David Frankel's heartwarming comedy-drama about one man's journey of self-discovery with a mischievous Labrador, based on the memoir by John Grogan.
Adapted for the screen by Scott Frank And Don Roos, Marley and Me conjures fond memories of every pet owner's experiences of living with an unstoppable force of mother nature, collaring decent laughs with uproarious interludes as the four-legged central character runs amok in sunny Florida.
However, the script plumbs surprising emotional depths too, eliciting strong performances from lead stars Owen Wilson and Jennifer Aniston as a young couple struggling to meld professional and parental responsibilities.
Viewers should cram every available pocket with handkerchiefs because Frankel's film is a modern day Old Yeller, following the relationship between man and his best friend to its natural and utterly heartbreaking conclusion. Forget a polite, covert dab to the eyes. Brace for a tsunami of sobs by the picture's final frames, which remain the right side of cloying.
8. Titanic (M, 195 mins)
Back in 1998, James Cameron's mega-budget love story set aboard the doomed ocean liner was a phenomenon. Buoyed by the on-screen chemistry of Leonardo DiCaprio and Kate Winslet, Titanic sailed away with a record 11 Academy Awards and broke box office records until Cameron trumped himself with the equally epic Avatar. The film also installed Celine Dion at the top of global charts for what seemed like an eternity with her soaring lament My Heart Will Go On.
Recalling the epic storytelling of British director David Lean and co, Titanic is a feast for the senses, buoyed by eye-popping special effects which still look pristine. The final hour, revealing the fates of passengers of all classes as the ship quickly takes on freezing water, cements Cameron's reputation as an action director par excellence. He is also a master helmsman of delicately observed human drama.
Our cheeks are soaked with trickles of saltwater well before Winslet clambers onto that floating wooden door panel and prays through chattering teeth for salvation.
9. Toy Story 3 (G, 103 mins)
The toys are back in town as the computer animation wizards at Pixar bid fond farewell to Woody the cowboy, Buzz Lightyear and their other beloved creations. Third time's most certainly a charm – Toy Story 3 surpasses the 1995 original and its sequels for thrills, spills and belly laughs, delivering the most satisfying journey of the rootin' tootin' series.
Tom Hanks and Tim Allen are in delightful form, sparking off one another as their characters go to infinity, perhaps for the last time. The script sparkles with hilarious one-liners, such as when Hamm (John Ratzenberger) resigns himself to the dusty attic and quips: "Let's go see how much we're going for on eBay." The final 10 minutes of Lee Unkrich's film are sublime, guaranteed to wring viewers dry as animators strike the perfect balance between laughter and tears.
Read: Seven amazing black and white films that will take you back
10. Up (G, 101 mins)
The opening 10 minutes of Up are among the finest that Pixar Animation Studios has ever crafted, introducing widower Carl Fredricksen (voiced by Ed Asner) via a montage of his childhood years and his subsequent marriage to soul mate Ellie (Elizabeth Docter).
By turns hysterical and harrowing, this rumbustious romp is guaranteed to have even the most cynical soul choking back tears during an airborne adventure in the company of a cranky 78-year-old and an excitable eight-year-old boy (Jordan Nakai). Keep handkerchiefs within easy reach because Michael Giacchino's Oscar-winning score tinkles the piano ivories and breaks our hearts with its simple, melancholic melody.
Vocal performances by Asner and youngster Nakai compel us to fall head over heels in love with their peculiar double-act. Visuals are astounding in their vibrancy and minuscule detail and you soon forget that you are watching something that has been created meticulously on hard drives. Directors Pete Docter and Bob Peterson shoot for the moon and they sail to breathtaking heights.
– With PA
If you enjoy our content, don't keep it to yourself. Share our free eNews with your friends and encourage them to sign up.