Jamie Oliver's five-ingredient recipe for smoky chorizo salmon will bring a taste of the Mediterranean to your weekday dinners.
With these kind of colours, you'd be mad not to whip it up yourself. And you wouldn't be blamed for immediately sending a picture to your friends and family.
Read: Jamie Oliver's Tuna Carpaccio
Serves: 2
Ingredients
2 x 150g salmon fillets, skin on, scaled, pin-boned, from sustainable sources
300g ripe mixed-colour cherry tomatoes
4 sprigs of fresh basil
8 black olives (stone in)
30g chorizo
1 tablespoon red wine vinegar
1 tablespoon extra virgin olive oil
sea salt and black pepper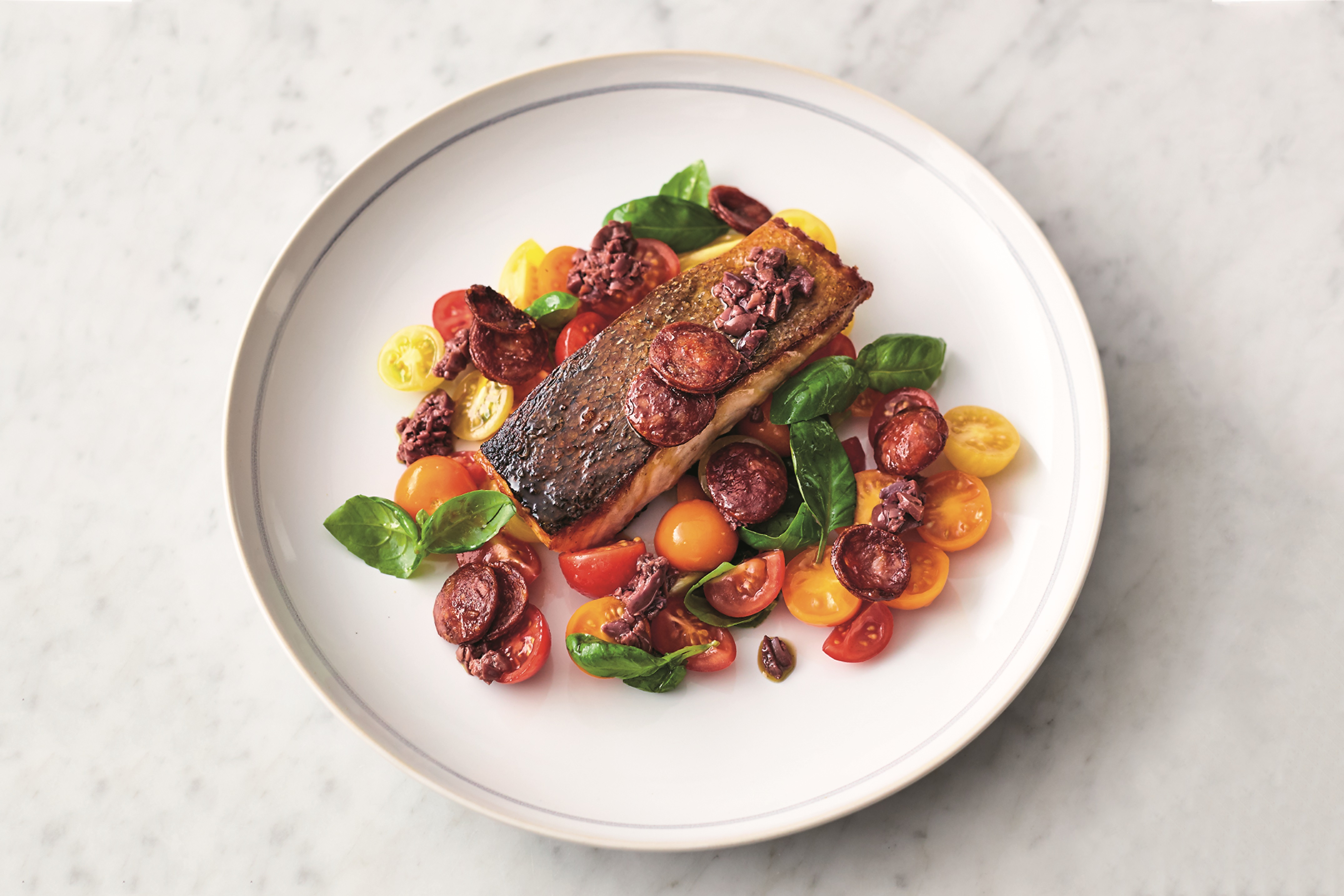 Method
Put the salmon flesh side down in a large cold non-stick frying pan and place on a medium-high heat. As the pan comes up to temperature and the salmon begins to sizzle (about three minutes), flip it over and cook on the skin side for five minutes, or until very crisp and just cooked (depending on its thickness).
Read: Smoked Salmon, Goats' Cheese and Asparagus Tart
Meanwhile, halve the cherry tomatoes, tear up most of the basil leaves, then toss it all with one tablespoon of red wine vinegar and a pinch of sea salt and black pepper.
Squash the olives and discard the stones, then finely chop the flesh. Mix with one teaspoon of extra virgin olive oil and a splash of water.
Finely slice the chorizo, add to the pan for the last two minutes, then toss in the dressed tomatoes for 30 seconds. Divide between your plates, with the salmon on top. Spoon over the dressed olives and dot with the remaining basil.
Read: Jamie Oliver's tips to cut food waste
5 Ingredients — Quick & Easy Food by Jamie Oliver is published by Penguin Random House, available now.
How long do you typically spend cooking weekday meals? Why not share your favourite salmon recipe in the comments section below?
– With PA
If you enjoy our content, don't keep it to yourself. Share our free eNews with your friends and encourage them to sign up.